How does Istanbul feel?
Listen to "Variations on Rondo alla Turca of Mozart",  "1001 Nights at the Harem Violin Concerto" and "Black Earth" composed and played by Fazil Say (Outstanding contemporary Turkish composer and concert pianist).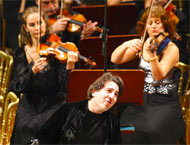 Listen to "Mahser-i Istanbul" from Cahit Berkay (Mogollar) and Grup Zan
Listen to "Fretless Guitar Fusion" from Telvin trio (with Erkan Ogur)
Listen to "Sil baştan" by Sebnem Ferah
Listen to "Bir tek sen" from Bulent Ortacgil
Listen to "XL" from Nil
Listen to "Yetmiyor yetemiyor" by Bulutsuzluk Ozlemi
Listen to "Dans etmeye…" by Asli
Listen to "Bahtimin ruzgari" by Kamil Erdem and Rene Sopa Quartet
Listen to "Lady from İstanbul" by Fatih Erkoc and Kerem Gorsev Trio 
Listen to "Telvin" in Jazzmix Festival.
-
Read the book "Istanbul" from Nobel Prize Laureate Orhan Pamuk
Watch the movie "Crossing the Bridge" by Fatih Akin
Watch the movie "Uzak" by Nuri Bilge Ceylan
Watch the movie "Bal" by Semih Kaplanoglu
-
More on Istanbul: