GOZUACIK LAB, CELLULAR STRESS AND DEATH RESPONSES: Basic autophagy research and its implications in human health and disease.
"From high quality basic science to diagnosis and treatment of diseases".
Keywords: Basic sciences and medicine, cancer biology, disease biology, cellular stress, programmed cell death, autophagy, drug research, diagnostics research, nano medicine, nano toxicology, lab-on-a chip, cellular chips, and biomedical devices.
.
Our research approach: 
In our lab, we investigate mechanisms of cellular stress and death responses using molecular biology, genetics, biochemistry, cell biology and in vivo animal experimentation techniques (CAM assays, mice experiments). We discover novel RNAs (e.g. microRNAs) and proteins regulating stress responses, and especially autophagy. Using our novel basic findings, we investigate how abnormalities of these stress responses are related to disease pathology, progression, drug responses and prognosis. Based on our discoveries, we are also interested in finding new diagnosis techniques and treatment approaches. Therefore, our lab is a pre-clinical medical research laboratory.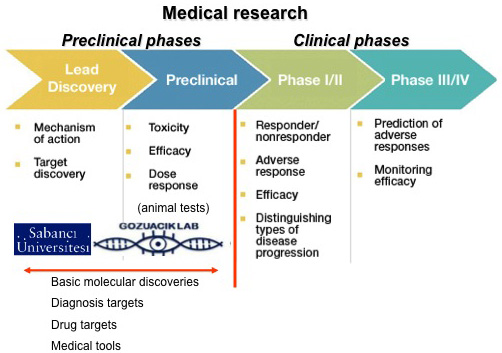 .
We have established several interactive collaborations with world-class scientists working in different fields. Our collaborations with clinicians provide us with valuable clinical information and patient samples (tumors, blood, live cells etc.). Our collaborations with chemical engineers allowed us to develop innovative functional nano particles, nano drug carriers and nano diagnostics tools. Additionally, together with our  collaborators, we could develop lab-on-a-chip devices and cellular chips with high-throughput screening capacities. Our collaborations with mechatronics and other engineers, led us to invent a patented medical device (Tumor/tissue ablation with bubbles, SUTAB device) and construct 3D printed cell-based aortic vascular structures.
We hope to be able to bring results of our pre-clinical research efforts to clinical phases and patient usage through collaborations with clinicians and companies. 
.
Our national and international collaborations: 
Gozuacik Lab has privileged access to the EMBL Core Facilities in Heidelberg, Germany. Sabanci University is in close vicinity of Teknopark Istanbul, GOSB Technopark and Marmara Technopark (Teknokent), important science and technology parks in Turkey. Sabanci University research patents and outputs are commercialized with the help of its affiliated company Inovent. Our collaborators include Dr Jörn Dengjel (Friburg University, Switzerland), Dr Yoon Kyoung Cho (UNIST, S. Korea), Dr Ali Kosar (Sabanci University), Dr Havva Funda Yagci-Acar (Koc University), Dr Sinan Ekici, Dr Isin Dogan Ekici (Yeditepe University), Dr O. Ugur Sezerman (Acibadem University), Dr Hikmet Akkiz (Cukurova University), Dr Arzu Akcay (Ministery of Justice Forensic Medicine Institution), Dr Kubilay Kin (Ministery of Justice Forensic Medicine Institution), . Gozuacik Lab is part of the EMBO Cancer YIPs Group (Several cancer labs all around EU) and Proteostasis COST Network and Transautophagy COST Network. We are a co-founder and a member lab of the YÖK-approved Sabanci University Center of Excellence for Functional Surfaces and Interfaces for Nano Diagnostics (EFSUN).
.
More about us: For our selected publications click here. For a full publication list click here. For our recent microRNA-based drug-diagnosis patent click here. For our awards click here. For TV and newspaper news about us click here.
.
GOZUACIK Lab home.
Keywords: What is autophagy? Otofaji nedir?