Posted on September 11th, 2013 by Adam
I'm delighted to say that my blogging efforts have been recognized again, this time by the Really Learn English website. My 'Teach them English' blog has been nominated among only ten blogs as the best blog on the subject of teaching English.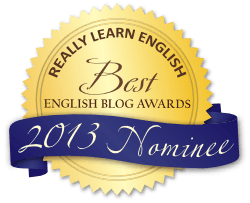 I nowadays like to view these things as an opportunity for you all to get to discover new ELT blogs and find out about the great blogging that is going on out there. That's partly why I agreed to participate in the 'Really Learn English' website's blog awards, as they've gone to the bother of interviewing each of the nominees, so that you can learn more about the people behind the blogs. You can read the full interviews and vote for your favourite blog here!