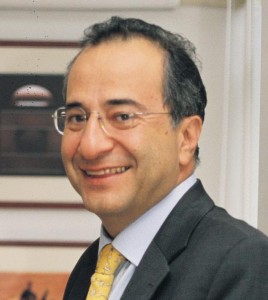 CURRICULUM VITAE
OGUZ N. BABÜROGLU
Education:
| | |
| --- | --- |
| Date: | 1987 |
| Institution: | The Wharton School of University of Pennsylvania, USA. |
| Degree: | Ph.D.   Social Systems Sciences Department: Strategy and Organization Development |
| | |
| --- | --- |
| Date: | 1978 |
| Institution: | University of Lancaster, U.K. |
| Degree: | Post-Graduate, Operational Research |
| | |
| --- | --- |
| Date: | 1977 |
| Institution: | University of Sussex, U.K. |
| Degree: | B.Sc. (Honors) – Industrial Engineering |
| | |
| --- | --- |
| Date: | 1974 |
| Institution: | Taunton School, U.K. |
| Degree: | High School |
Editorial Committee Member: International Journal of Action Research, Rainer Hampp Verlag
Advisory Board member: Action Research, Sage Publications
Membership of Professional Bodies:, Academy of Management, Strategic Management Society, European Group on Organization Studies, European Action Research Network, International Society for Systems Sciences.
Civil Society Organizations: Board member of TESEV (Turkish Economic and Social Studies Foundation), TEGV (Turkish Education Development Foundation) Founding Memeber
Commercial Board Member: Eti Biscuit and Chocolate Inc.
Academic Experience Record:
| | |
| --- | --- |
| Date: | 1998-present |
| Location: | Turkey |
| Company: | Sabancı University |
| Position: | Core Faculty in the School of Management |
| Description: | Practice Development and Practice Sharing Courses |
| | |
| --- | --- |
| Date: | 1991-1998 |
| Location: | Turkey |
| Company: | Bilkent University |
| Position: | Associate Professor |
| Description: | Business Policy and Strategy, Change Management, Organization Design and Development, Organizational Behavior and Organization Theory courses. |
| | |
| --- | --- |
| Date: | 1994-1999 |
| Location: | Norway |
| Company: | Work Research Institute |
| Position: | Senior Research Fellow |
| Description: | Organization Development Advising on Projects and Staff Training |
| | |
| --- | --- |
| Date: | Dec.1991-Feb.1992 |
| Location: | France |
| Company: | INSEAD |
| Position: | Visiting Professor |
| Description: | Change Management Course |
| | |
| --- | --- |
| Date: | 1986-1991 |
| Location: | USA |
| Company: | Clarkson University |
| Position: | Assistant Professor |
| Description: | Business Policy and Strategy Course |
| | |
| --- | --- |
| Date: | 1982-1986 |
| Location: | USA |
| Company: | West Chester University |
| Position: | Assistant Professor |
| Description: | Business Policy and Strategy, Change Management, Organization Planning and Development courses |
Consulting Experience Record:
Date:
1995-present
Location:
Turkey
Company:
Arama (Search) Participatory Consulting Ltd.,
Position:
Founder and Senior Consultant
Description:
– – Long Term Relationships: Participative planning, participative organization design, and development in Tofaş Fiat, FTürk Henkel, Eczacıbaşı Holding, Sabancı University, Eskişehir Greater Metropolitan Municipality, Union of Pharmaceutical Manufacturer Employers, Vehbi Koç Foundation, Yaşar Holding, Enternasyonal Turizm Yatırım, Yalova Elyaf, Beymen, Türk Kablo (Nokia), Simko (Siemens) Endüstriyel Elektronik, Pınar Süt, Kent Yatırım– International References: Fiat Auto ? Italy, Rockefeller Foundation-USA, Lightstone Foundation, West Virginia, Georgia State Parliament-USA, Vermont State Parliament-USA, Pennsylvania State Parliament-USA, Workplace Australia-Australia, Telecom Italia-Italia, Seneca Tribe-USA, Mohawk Tribe-USA, University of Pennsylvania-USA, Women in Crisis-USA, Nuclear Freeze Movement-USA, Pennsylvania Prison Society-USA, Work Research Institute-Norway

– Sectoral Projects: Turkish Banking Industry – Banking Regulation and Supervision Agency (BDDK), Turkish Foreign Trade and Customs- Under Secretariat of Customs, ?Açık Pozisyon Oyunu Nasıl Biter ve Gümrük Birliği?nden Bankalar Nasıl Etkilenir??-Turkish Bankers? Association, Future Design of Turkish Tourism Industry-TYD, The Participative Restructuring of Turkish Agricultural Sector in collaboration with TTDF for the Turkish Ministry of Agriculture, ), Adapting to turnkey projects in the Turkish electrical energy industry-Türk Kablo (Nokia, Turkey), Deregulating the Telecommunications Industry for Turkish Northern Telecom (NETAŞ), The Turkish Health Industry-The Health Industry Suppliers and Manufacturers Association (SADER), Redesigning a New and Viable Growth Strategy for the Prefabricated Components Industry-Turkish Prefab Association, Developing a Collaboration Strategy for Turkish Ceramics Sector-Middle Anatolia export Association, Collobaration in the Packaging Industry-Istanbul Export Association, Restructuring the Cement Industry-TÇMB, the Future of the Turkish Pharmaceutical Industry- Union of Pharmaceutical Manufacturer Employers, Future Design of the Arı Grubu (Search Conference), Future of the Cosmetics Industry-Cognis

– Foundations, Associations, Unions: Association of Turkish Businessmen an Industrialists in Europe (ATİAD), Foreign Economical Relations Committee (DEİK), Foundation of Development of the Aegean Economy (EGEV), Union of Pharmaceutical Manufacturer Employers, Istanbul Export Association, Middle Anatolia Export Association, Health Industry Suppliers and Manufacturers Association (SADER), Tourism Investors Association (TYD), Turkish Concrete Manufacturers Association (TÇMB), Turkish Social and Economical Studies Foundation (TESEV), The Union of Chambers of Commerce, Industry, Maritime Trade and Commodity Exchanges of Turkey (TOBB), TEMA Foundation, Turkish Pharmacists? Association, Turkish Prefab Association, Turkish Industrialists? and Businessmen?s Association  (TÜSİAD), Turkish Technology Development Foundation (TTGV), International Transporters Association (UND), Foreign Investors Association of Turkey (YASED), Galatasaray Sports Club

–Clients where search conferences or participative design workshops were held in Turkey: Alarko Holding, Altınyıldız Group, Anadolu Endüstri Holding, Bayraktar Holding, Eczacıbaşı Holding, Koç Holding, Koru Holding, Mazhar Zorlu Holding, Sabancı Holding, Türk Petrol Holding, Yaşar Holding, Yibitaş Holding, Akbank, Aksigorta, Ata Yatırım, Bank Kapital, Bayındır Finans Grubu, Bayındırbank, BDDK-TMSF, Dışbank, Eczacıbaşı Menkul Değerler, Eximbank, Interbank, KentYatırım, Merkez Sigorta, Osmanlı Bankası, T.C. Merkez Bankası, TEB Factoring, TEB Leasing, Türk Ekonomi Bankası (TEB), Yaşarbank (Tütünbank), Yapı Kredi Bankası, Altınyıldız, Benetton Boğaziçi, Beymen, Çarşı Mağazaları, EGS Giyim Sanayii.Artema, Çimbeton, Dasa, Otak-Desa, Dempa, Dyosad, Eczacıbaşı Endüstriyel Hammaddeler, Hazine Müsteşarlığı, İntema, Vitra, Bosch El Aletleri, BSG Grünberg, Elf-Selyak, Enternasyonal Turizm Yatırım, Ericsson, I-Bimsa, Hürriyet, Hedef Grubu, Güzel Sanatlar Saatchi & Saatchi Lowe-Adam Tanıtım Hizmetleri, Migros Türk A.Ş.Net-Allders JVC, OYAK,  Oyakbank, PriceWaterhouseCoopers, Pfizer, Profilo (BSP Dağıtım), Sony, TED İstanbul Koleji, Askaynak, Brisa, Eczacıbaşı-Baxter, Eczacıbaşı İlaç Grubu, Gümüşsuyu Halı, İgsaş, Metaş, Pınar Süt, Siemens Endüstriyel Elektronik,Teknoloji Holding ? Universalkart, Tofaş, Tuborg, Türk Kablo, Ülker, Merck Sharp & Dohme, Nestle, Mis Süt, Şenocak-Klimasan, Vestel Elektronik,  Yalova Elyaf, Yataş, Zorlu Tekstil Grubu

-Nation Wide Efforts: ?Participate to Change?  Search Conference with 150 NGO?s, Turkish Capital Market Search Conference – Equity Markets Committee, National Consensus Project in the Turkish Industry (TÜSİAD), Developing the Turkish Industrial Policy,  Dialogue 2000 Project , Common Mind Platform in Traffic, Turkish Tourism Policy
Awards
Babüroğlu received the AACSB (American Accreditation Committee of School of Business)?s EXXON Award on the Innovation of Management Education in 1989. Among his other awards are the NATO doctorate scholarship by TÜBİTAK (The Technical and Scientific Research Council of Turkey) (1978-1982), the Best Paper Award given by the Society for General Systems Research, Goodland (England) Public Speaking Award (1974) and OPOS scholarship for the last two years prior to undergraduate study in the boarding school in England (1972-1974).
European Grant
Baburoglu O. N. and Yildiz Arikan ? Practice Based Learning: Company Action Projects? Euronet -PBL: Education, Practice & Research  Promoting Practice-Based Learning in the Higher Education provisions for Business Administration, Engineering and Vocational Teacher Education
Project Number: 142236-LLP-1-2008-1-DE-ERASMUS-ECUE, Grant Agreement: 2008 ? 3211/ 001 ? 001
Educational System and Programs Designed
Public
Anadolu University: ?TRT Okul? TV Channel Design 2010
Anadolu University: Design of Future Positioning 2010
İstanbul University Reorganization of Medical Faculties – 2009
Private
Yaşar University: Strategic Plan – 2010
Sabancı University:Revisoning of the next 10 years 2006
Özyeğin University : Greenfield Design ? 2006-2007
Sabancı University : Company Action Project Design and Implementation, 1998-Present
Sabancı University: Executive Development Unit Design and Supervision? 2001-Present
Sabancı University Greenfield Design 1995-1997
Secondary Education
FMV Feyziye Mektepleri Foundation: Future Design- 2010
Robert College: Decoding Organizational DNA Project – 2009
Darrüşafaka Eğitim Kurumları: Future Design? 2009 and 2007
TEVİTÖL: The Design for Attracting Gifted and Talented ? 2008
Istanbul Technical University: Idealized Redesign of the School by the Students- 2007
TED Istanbul College: Future Design? 1999
Foundations and Associations
State Planning Organization, A design for increasing the strategic management capacity for governmental institutions 2009-2010
AÇEV: Internationalization of 0-7 age group programs – 2009
TUSİAD: Vocational Education and Institutions Project – 2002
Vehbi Koç Foundations: Designing the Future ? 1998
International
The Norwegian University of Science and Technology (NTNU): EDWOR Enterprise Development  Doctoral Program Design and Implementation Norway, 2001-2005
University of Pennsylvania: ?Say Yes To Education? Program Redesign – 1999
Clarkson University: ARETE Interdisciplinary Program design to unite Business and Liberal Studies – 1989
Publications:
Baburoglu O N and Emery M (eds) (2000), Educational Futures: Shifting Paradigm of
Universities and Education, Sabanci University Press, Istanbul
Baburoglu O N (1988) "Vortical Environment The Fifth in the Emery Trist Levels of Organizational Environment " Human Relations also in the 3rd volume of Tavistock Anthology, (1997 Eds.: E.Trist, et.al.)
Baburoglu, O N (Is the end of free fall, free fall?: Emergence of vortical environments
– Proceedings of the Society for General System, Philadelphia1986
Baburoglu O N and Ravn I (1992) "Normative Action Research." Organization Studies (13:1), pp. 19-34.
Baburoglu O N (1993) "Toplam Kalite Sonrası Sıfır Hiyerarşi (Zero Hierarchy in Post-TQM)", Görüş, November, p.34-39 (Turkish language)
Baburoglu O N (1991) "Surrendering to the Environment in Educational Systems Design"  in Comprehensive Systems Design: A New Educational Technology  ed by C. M. Reigeluth, B.H. Banathy, J.R. Olson, Nato ASI Series, Springer Verlag 1991
Baburoglu O N and Garr M A (1993) "Search Conference Methodology For Practitioners" in Weisbord M R, Discovering Common Ground, Berrett-Koehler Publishers, Inc., San Francisco, p.73-82
Baburoglu, O N. and Aylin Gocer  (1994) ?Whither Organizational Culture? Privatization Of The Oldest State-Owned Enterprise In Turkey? Organization & Environment) vol. 8 no. 1 41-54
Baburoglu O N (1995) "Keşif Yönetimi", Görüş, November-December , p.52-56 (Turkish language)
Baburoglu O N (1996) Convergence and Fragmentation Dilemma in Metaphorical Analysis of Organizations, Proceedings SCOS meeting
Ger M, Baburoglu O N, et al. (1996) "The AHP as a Methodology for Decisions in Public Policy: An Industrial Strategy Proposal for Turkey, 1995 – 2005"
Baburoglu O N, (1994) "Tracking the Emery-Trist Systems Paradigm", Systemic Practice and Action Research Volume 1 / 1988 – Volume 24 / 2011
Baburoglu O N, Topkaya S, Ates O (1996) Post-search Follow-up: Assessing Search Conference Based Interventions in Two Different Industries in Turkey, Concepts and Transformation 1:1
Baburoglu O N (1996) "Searching for a program in National Participation" in Beyond Theory: Changing organizations through participation, S. Toulmin and B. Gustavsen (Eds.), pp. 119-135, John Benjamins Publishing Company
Doz Y.L. and Baburoglu O., 2000, The emergence and evolution of R&D coperatives, in Faulkner D.,de Rond M. (eds.), Cooperative Strategy: Economic, Business, and Organizational Issues, Oxford University Press, 2000.
Selsky, John W. and Goes, Jim and Babüroğlu, Oğuz N., "Contrasting perspectives of strategy making: applications in 'Hyper' environments", Organization studies, Vol.28, No.1, January 2007, 71-94 (SSCI)
Reports:
Baburoglu O N, and Tunc Evcimen  (2011) ?A model for developing the strategic management capacity in governmental institutions? for the State Planning Organizations, Ankara Turkey
Baburoglu, O.N., Gokoglu, I. & Altinkurt, A. (2008). Kocaeli Industrial Turnaround Project Report: Gulf of Mobility and Innovation, Kocaeli Chamber of Industry, Publication No: 2008.ARS.04
Baburoglu, O.N., Evcimen, T.T. & Ustertuna, Z. (2008). New Competitive Strategy, The General Secretariat of Istanbul Textile and Apparel Exporters? Associations
Baburoglu, O.N. Construction Industry 2023 Vision, Published by the Union of Turkish Contractors 2011
Recent Presentations in International Conferences:
Academy of Management Meeting in 2007
24th Egos Colloquium in Amsterdam, 2008
Academy of Management Meeting in 2008
Academy of Management Meeting in 2009
25th Egos Colloquium in Barcelona, 2009
26th Egos Colloquium in Lisbon, 2010
Academy of Management Meeting in 2010