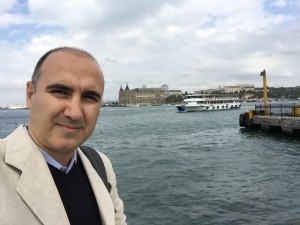 Devrim GOZUACIK, MD PhD
Associate Professor and Research Group Leader
SABANCI University
Faculty of Engineering and Natural Sciences
Molecular Biology Genetics and Bioengineering Program
Orhanli – Tuzla, 34956
Istanbul, TURKEY
Phone: +90 216 483 96 17
Fax: +90 216 483 95 50
e-mail: dgozuacik@sabanciuniv.edu

THE 100 Under 50 University Rankings 2015
– Click here for Dr Gozuacik's full CV.
– Devrim Gözüaçık kimdir? Özgeçmişi için tıklayınız.
.
G LAB NEWS:
– Our SUTAB project was awarded the Elginkan Foundation Technology Price. Click here.
– Dr Gozuacik 's interview for the Workshop Magazine of the national drug industry. Click here.
– New autophagy guidelines published: Klionsky DJ et al. (International Autophagy Consortium including Gozuacik D). Guidelines for the Use and Interpretation of Assays for Monitoring Autophagy (3rd edition). Autophagy. 2016 Jan 2;12(1):1-222. http://www.tandfonline.com/…/…/10.1080/15548627.2015.1100356
.