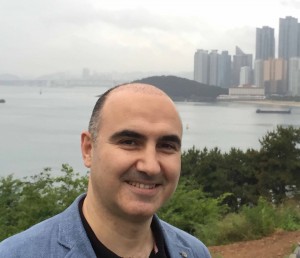 Devrim GOZUACIK, MD PhD
Associate Professor and Research Group Leader
SABANCI University
Faculty of Engineering and Natural Sciences
Molecular Biology Genetics and Bioengineering Program
Orhanli – Tuzla, 34956
Istanbul, TURKEY
Phone: +90 216 483 96 17
Fax: +90 216 483 95 50
e-mail: dgozuacik@sabanciuniv.edu

.
G LAB NEWS:
– Devrim Gözüaçık kimdir? Kısa özgeçmişi için tıklayınız.
– Devrim Gözüaçık hakkındaki TV ve gazete haberleri için tıklayınız.
– YouTube videomuz  için tıklayınız.
– Kısa üniversite kampüs turu için tıklayınız. 
– Follow GOZUACIK LAB in Facebook: https://www.facebook.com/gozuaciklab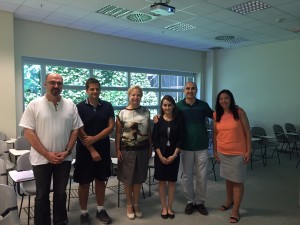 – Our student Kumsal Ayse Tekirdag defended her PhD thesis successfully. Congratulations to Dr Tekirdag! Click here to see her publication list.
So far, 6 MSc and 2 PhD students graduated and 6 postdoctoral scientists were trained in the G Lab (in total 14 students). Click here to see their names and current positions. 
Moreover, many dozens of undergraduate students, graduation project students and summer interns from all around the world worked in the G Lab.
.

– Our patented innovative cancer gun SUTAB was on major TV channels and newspapers. Click here. For the HQ Youtube video click here.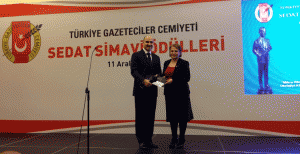 – 2014 Sedat Simavi Health Sciences Award (a prominent national medicine award) goes to Devrim Gozuacik. For more info, click here.
.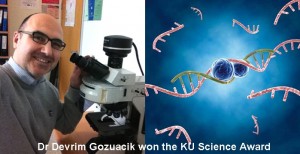 – Devrim Gozuacik was awarded the prestigious Prof Onder Oztunali Science Award.
– GOZUACIK LAB in Twitter now. GÖZÜAÇIK Laboratuvarı Twitter'da. 
Click/Bas 

– Türkçe otofaji makalesi için buraya tıklayın.
For Selected Publications click here.
DG in Researchgate click here
Türkçe Özgeçmiş.