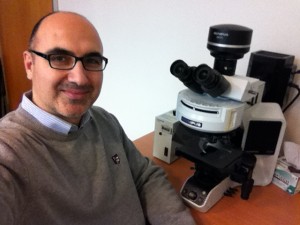 Devrim GOZUACIK, MD PhD
Associate Professor, Research Team Leader
SABANCI University
Faculty of Engineering and Natural Sciences
Biological Sciences & Bioengineering Program
Orhanli – Tuzla, 34956
Istanbul, TURKEY
Phone: +90 216 483 96 17
Fax: +90 216 483 95 50
Email: dgozuacik@sabanciuniv.edu
Please click  for Dr Gozuacik's selected publications and CV.
Devrim Gözüaçık kimdir? Kısa özgeçmişi için tıklayınız.
Devrim Gözüaçık hakkındaki TV ve gazete haberleri için tıklayınız.
.
NEWS:
- G Lab Postdoctoral fellow Dr Cenk Kig was awarded the TUBITAK-2232 Research Grant and Fellowship. 
- G Lab PhD student Yunus Akkoc was awarded the TUBITAK-BIDEB PhD Scholarship.
- For our new research paper published in the PLoS ONE journal click here.
- For several recent publications from the G Lab. Click here.
- Prof. Christian Bréchot was elected the new General Director of the Pasteur Institute, Paris. Click here.
- Autophagy journal (impact factor 12) is classified as one of the best journals in the Cell Biology field (Rank: 12 / 184 journals). Click here to see the classification in the  Science Citation Index.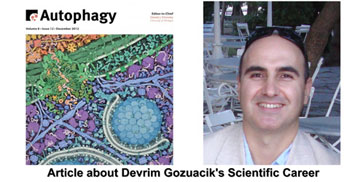 - Autophagy journal published an article about us: "Autophagy Researchers: Devrim Gozuacik". Click here.
- Türkçe otofaji makalesi için buraya tıklayın.
Kanser, dejeneratif hastalıklar ve kalıtsal hastalıklarla ilgili bilimsel çalışmalarımızı bağış yoluyla desteklemek için lütfen Dr Gözüaçık ile bağlantıya geçiniz.