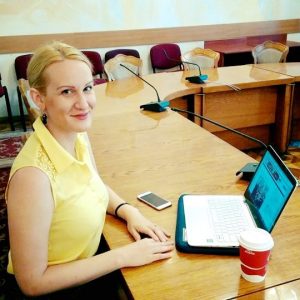 Ieva Vezbergaite
Ieva Vezbergaite is a PhD candidate in Political Science at Sabancı University (concentration areas: International Relations and Comparative Politics).
She also serves as a Junior Consultant on Employment and Social Inclusion for UNDP Regional Bureau for Europe and Central Asia.
She has been Teaching Assistant for undergraduate course "SPS 303 Law and Ethics" that covered topics on democracy, rule of law, constitution, judicial review, rights & citizenship, justice and equality.
Ieva's research interests are self-determination of peoples and secessionism, minority rights, migration, ethnic conflict, federalism, decentralization, autonomy, devolution of power, regionalism, multi-level governance, human rights, non-discrimination, justice, rule of law,  comparative constitutional law.
Ieva was appointed as a chair for "Federalism, Decentralization and Regionalism" section in the ECPR graduate conference that took place in Austria in 2014
Ieva serves as a reviewer for the journal Federal Governance
Memberships
Member of International Political Science Association (IPSA)
Member of IPSA research committee 'Comparative Federalism and Multi-level Governance'.
Member of ECPR standing group 'Federalism and Regionalism'
Member of International Association of Political Science Students (IAPSS)

NEWS
Ieva Vezbergaite has been selected to participate to prestigious European Center for Minority Issues (ECMI) summer school on Minority Rights and Minority Protection Regime to be held on August 28-September 4, 2016. With support of Germany OSCE Chairmanship and DAAD, Ieva has received full scholarship to attend the training. Aims and objectives of ECMI summer […]
Posted in
Short course
Comments Off

on European Center for Minority Issues