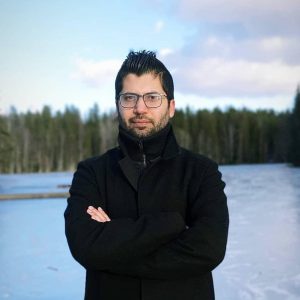 This was my (old) website as a Master's Student/researcher in Sabanci University (and might not be up-to-date).
For information about my current work, please visit my webpage in TUT.
New updated profile: https://sites.google.com/view/fahadsohrab/home
I graduated with a MS degree in electronics engineering from Sabanci university (2nd year at TU delft Netherlands). During my MS, I focused on signal processing, particularly audio signal processing. Currently i am pursuing PhD in machine learning and signal processing at department of computing sciences, faculty of information technology and communication sciences Tampere university, Finland. I have research interest in machine learning, subspace learning, one-class classification, pattern recognition and related areas.
PhD, Signal Processing  – current
Tampere university, Finland
MS Electronics Engineering
Sabanci University Istanbul, Turkey
Delft University of Technology, Netherlands (1 year Socrates Erasmus)
BS Telecom Engineering
National University of Computer and Emerging Sciences Pakistan "FAST NUCES"
(Cum laude/ Graduate with honor)
Member:
Member: IEEE Graduate Student Member Finland section, March 2019- current
Member: IEEE Biometrics Council, March 2019- current
Member: IEEE Signal Processing Society, January 2019- current
Member: IEEE Young Professionals, March 2019- current
Member: Signal Analysis and Machine Intelligence (SAMI) research group Tampere university, September 2019- Current.
Member: Multimedia Research Group (MRG) – Tampere University of Technology, May 2017 – August 2019
Member: Computer Vision and Pattern Analysis Laboratory (VPA LAB) Sabanci University, Aug 2013 – Jan 2016.
Member: Machine Intelligence for Speech Audio and Multimedia (MISAM) research group, Aug 2013 – Jan 2016.
Member: Pattern Recognition Laboratory (PR-LAB) Delft University of technology, Aug 2014 – Aug 2015.
Student ambassador: Delft University of technology signal and system track, Aug 2014 – Aug 2015.
General Secretary: "NUTEC 10" all Pakistan technology competition at FAST NUCES, Aug 2011-Aug 2012.
Social worker and Founder Vice president: Young Pakistan social welfare society, Aug 2008-current.
CONTACT:
Email: fahadsohrab@sabanciuniv.edu
Linkedin: /in/fahadsohrab
Twitter: @fahadsohrab