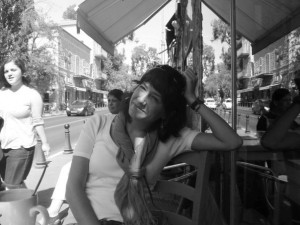 Zeynep Başer received her MA from the Conflict Analysis and Resolution Program, Sabancı University.
Her graduation dissertation explores into how children and young people in Diyarbakır imagine peace, particularly in the context of the current Kurdish Question in Turkey, and how they perceive their own roles as active agents in any prospective attempts for peacebuilding and reconstruction in the region.
(Winner of Behice Boran Social Sciences Awards, honorable mention)
*
Zeynep Başer yüksek lisans derecesini Sabancı Üniversitesi Uyuşmazlık Analizi ve Çözümü bölümünden aldı.
Yüksek Lisans mezuniyet tezini Diyarbakır'daki çocuk ve gençlerin  Türkiye'nin Kürt sorunu bağlamında "barış"ı nasıl algıladığı ve hayal ettiği, ve gelecekte muhtemel bir barış inşası sürecinde kendi rollerini nasıl gördükleri üzerine yazmakta olduğu üzerine hazırladı.
(Behice Boran Sosyal Bilimler Ödülleri, mansiyon ödülü)
e-mail | e-posta: zbaser@sabanciuniv.edu
program website | program websitesi : http://conf.sabanciuniv.edu/