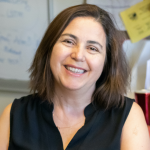 Professor, Computer Science and Engineering Program
Director, Sabanci University Center of Excellence in Data Analytics (VERIM)
Google Scholar     DBLP      Research Gate
---
Education
Galatasaray Highschool (1983).
B.E. in Computer Engineering and B.A. in Mathematics, Bosphorous University, 1988.
M.S. and PhD from Dartmouth College, USA (1992,1993).
Research
I work in computer vision and machine learning with a focus on handwriting recognition (online, offline; English, Turkish), biometric verification (signature, fingerprint), biometric privacy and image understanding (face, plant…), attribute-based classifiers and NLP applications (sentiment analysis, information summarization).
Short Bio
Berrin Yanikoglu is a Professor of Computer Science and the founding Director of the Center of Excellence in Data Analytics (VERIM), at Sabanci University, Istanbul, Turkey. She received a double major in Computer Science and Mathematics from Bogazici University, Turkey in 1988 and her Ph.D. degree in Computer Science from Dartmouth College, USA in 1993. Prof. Yanikoglu worked at Rockefeller University, Xerox Imaging Systems and IBM Almaden Research Center, before joining Sabanci University in 2000. Her research interests lie in the intersection of computer vision and machine learning areas, currently focusing on hate speech detection, supervised and self-supervised image understanding, handwriting recognition for Ottoman text, medical image understanding, and text summarization. She is an Editor for the Turkish Journal of Electrical Engineering and Computer Science.
Contact
Faculty of Engineering and Natural Sciences
Sabancı University, Istanbul, Turkey 34956  
Office: FENS 2056
berrin at sabanciuniv.edu