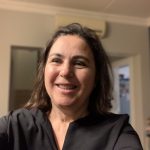 Professor, Computer Science and Engineering Program
Director, Sabanci University Center of Excellence in Data Analytics (VERIM)
Google Scholar     DBLP      Research Gate
---
Education
Galatasaray Highschool (1983).
B.E. in Computer Engineering and B.A. in Mathematics, Bosphorous University, 1988.
M.S. and PhD from Dartmouth College, USA (1993).
Research
I work on applied machine learning problems, in particular in the intersection of computer vision and machine learning: handwriting recognition (online, offline; English, Turkish), biometric verification (signature, fingerprint), biometric privacy and image understanding (face, plant…), attribute-based classifiers and NLP applications (sentiment analysis, information summarization).
Contact
Faculty of Engineering and Natural Sciences
Sabancı University, Istanbul, Turkey 34956  
Office: FENS 2056
berrin at sabanciuniv.edu