Differential expression of genes and apoptosis is the theme of our ongoing research
---
Development of Nanoparticles applications in nanomedicine
Recently, our lab works on biological effects of drug loaded nanoparticles in the cells; especially, focusing the increasing antioxidant defence capacity of cells by using nanosystem. For this purpose, a nanosystem has been developed that is spesific for fibroblast cell line. To use our nanosystem on in-vivo systems is an ongoing project.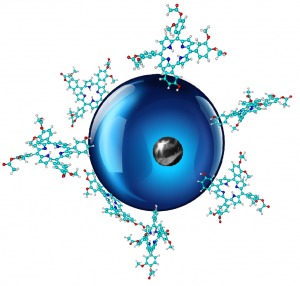 ---
Impact of mitochondrial estrogen receptor status on mitochondrial priming and endocrine therapy response in breast cancer cells
We are dedicated to deepen our knowledge about breast and ovarian cancer pathogenesis and identify the novel mechanisms of cell death resistance (mitochondrial and non-mitochondrial) in breast and ovarian cancer cells. Our ultimate goal is to apply our knowledge on cancer therapy and predict cellular sensitivity in the clinical practice.
---

Survival Signals Induced by Cholesterol Oxidation By-Products in Atherosclerosis
Atherosclerosis is the most prevalent cause of morbidity and mortality developed countries. Oxysterols are a family of 27-carbon molecules originated from cholesterol oxidation and the atherogenic potential of oxysterols is linked to their ability to induce apoptosis, vascular smooth muscle cell proliferation and monocyte migration. Hence, we aimed to elucidate the molecular mechanisms underlying the survival signaling elicited by 27-hydroxycholesterol (27-OH) which is the most represented oxysterol in human blood. . The data obtained highlight oxysterols' ability to promote cell survival that might contribute to the pathogenesis of inflammation-driven chronic diseases such as atherosclerosis.
---
Identification of SIRT1 as a novel regulator of NFAT5 dependent Aldose Reductase expression under osmotic stress.
NFAT5, the osmoregulatory transcription factor, is implicated wide range of diseases states including diabetes and cancer. In particular, our group is currently investigating the potential changes in post-translational modifications of NFAT5 and its interacting partners under hyperosmotic milieu. More recently, we have identified SIRT1, the NAD+ dependent deacetylase as potential regulators of NFAT5 dependent Aldose Reductase expression. In future, more direct or indirect partners, affecting NFAT5 dependent transcriptional machinery is aimed to be identified. In this regard, our current work focuces on SIRT6, another deacetylase.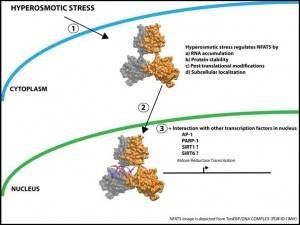 ---
---
Regulation of proline oxidase and related miRNA expressions in colon carcinoma cells upon 5-flourouracil treatment

Proline oxidase is a mitochondrial tumor suppressor that can suppress proliferation and induce apoptosis through the generation of reactive oxygen species (ROS) and decreasing hypoxia-inducible factor (HIF) signaling. Recent studies have shown the absence of expression of POX in human cancer tissues, including colon and renal cancer. However, the mechanism for the loss of POX remains unclear. No genetic or epigenetic variation of POX gene was found. We are interested in regulation of POX expression through microRNAs and upstream signaling in response to 5-fluorouracil in colon carcinoma cells.