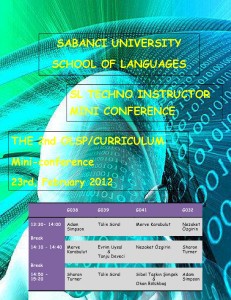 The concurrent sessions during the  ?2nd SL Techno Instructor Mini-Conference? on 23rd February 2012  aimed to provide the participants with practical ideas and free WEB 2.0 tools to be exploited in their teaching contexts.
It was organised by Online Learning Support Project Team and Curriculum Team. Contributions from other colleagues at SL , thanks to Merve Karabulut, Nezaket ├ľzgirin, Sharon Turner and T├╝lin S├╝ral, turned the event into a rewarding developmental experience.
The session details and handouts can be found below:
Adam Simpson:
Eyercise:
In this session, Adam Simpson demonstrated a speed reading development tool 'eyercize', a tool which allows you to add your own text and set the speed at which you wish to read it. The session briefly looked at the theory of speed reading so as to enable teachers to guide learners in the use of this resource.
How can we help our students develop their reading speed
Recorded summary of the session can be found here.
T├╝lin S├╝ral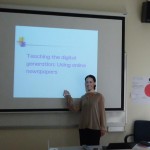 Teaching the digital generation: Using online newspapers
In this session T├╝lin S├╝ral presented how working with on-line English language newspapers could be used as powerful tools in the language classroom to develop an aptitude to read and respond critically.
Merve Karabulut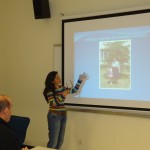 How to Explore ?Can/Do? statements using Technology & other visual aids
In this session, Merve Karabulut shared an alternative way of applying ?can/do? statements in an adult university students setting by actively using modern technology and a variety of visual aids.
A PROJECT INSPIRED BY PERSONAL HISTORY
Nezaket ├ľzgirin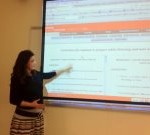 What do you do with all the resources, websites, useful links for different purposes and different levels?
In this workshop, Nezaket ├ľzgirin shared her experiences on how to use an online folder system for both instructors and learners.
Prezi on livebinders by nezaket
Sharon Turner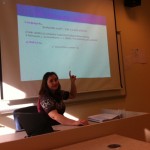 Shh it's a secret. Constructive Facebook Use in the Classroom
In this session, Sharon Turner showed how to explore Facebook Groups as a dynamic educational tool.
Evrim Uysal & Tanju Deveci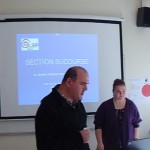 I want to use my Section SUCourse (more actively) this semester
In this session, Evrim Uysal and Tanju Deveci  showed the tools available on section SUCourses and the participants will be guided on how to upload materials and how to manage their SUCourse more actively.
SECTION SUCOURSE_OLSPSpring2012_final
Sibel Ta┼čk─▒n ┼×im┼ček & Okan B├Âl├╝kba┼č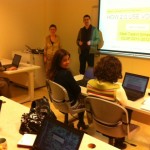 How to Provide Audio Feedback to Student Recordings
In this session, Sibel Ta┼čk─▒n ┼×im┼ček and Okan B├Âl├╝kba┼č┬á showed how to do sound recording using Web 2.0 tools in order to give feedback to students? speaking task recordings.
Leave a Reply